Answers
How do I make a book?
Many Reunion users have created books of their family information. We've got stacks of them here — books that users have sent to us as a "thank you." The books vary greatly in content, size, and style, because Reunion offers so much flexibility.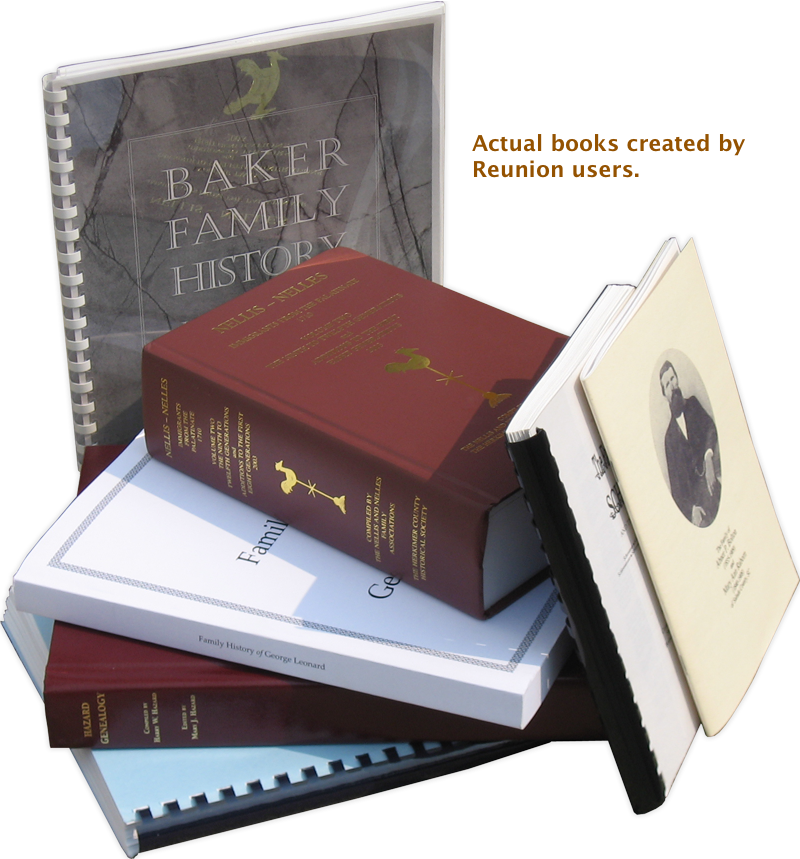 In Reunion, a book is an automatically generated yet fully customizable PDF document that you can share, publish, or print. It's based on a core report — register, family history, ancestor, hourglass, or relative report — and includes several traditional book elements wrapped together into one cohesive and customizable PDF file for the 21st century..
To see a book example, click here.
The main elements of a book project include...
front cover
table of contents
surname index
the core report (with text optionally wrapped around pictures)
sources
media pages
place index
person index
back cover
custom pages or sections that you create, such as PDF files, RTF file, image files, etc.
When using Reunion to publish and share a book, other people can browse and search through your information with rich detail and in the context of a familiar format (a book) with more traditional sections like indexes of people, places, and pictures, together with page numbers, headers, and footers.
Benefits of a PDF book
Reunion's book report can be printed; but it's not necessary. It's often preferable (and certainly less expensive) to share a book (or "e-book") as a PDF file with the added bonus of many built-in tools for navigation within the book. In particular, people, places, and pictures are all linked together in the book. Thus, a reader could find somebody in the index, click their name, go instantly to their detailed information in the body of the report, then click a source citation, go immediately to the complete source entry, click a picture, go immediately to all of a person's pictures neatly organized in the media section, click a web page link in notes or sources and open a browser to the web page, etc., etc. The PDF file format provides the benefit of linked information, yet everything appearing in a more traditional format and completely searchable too!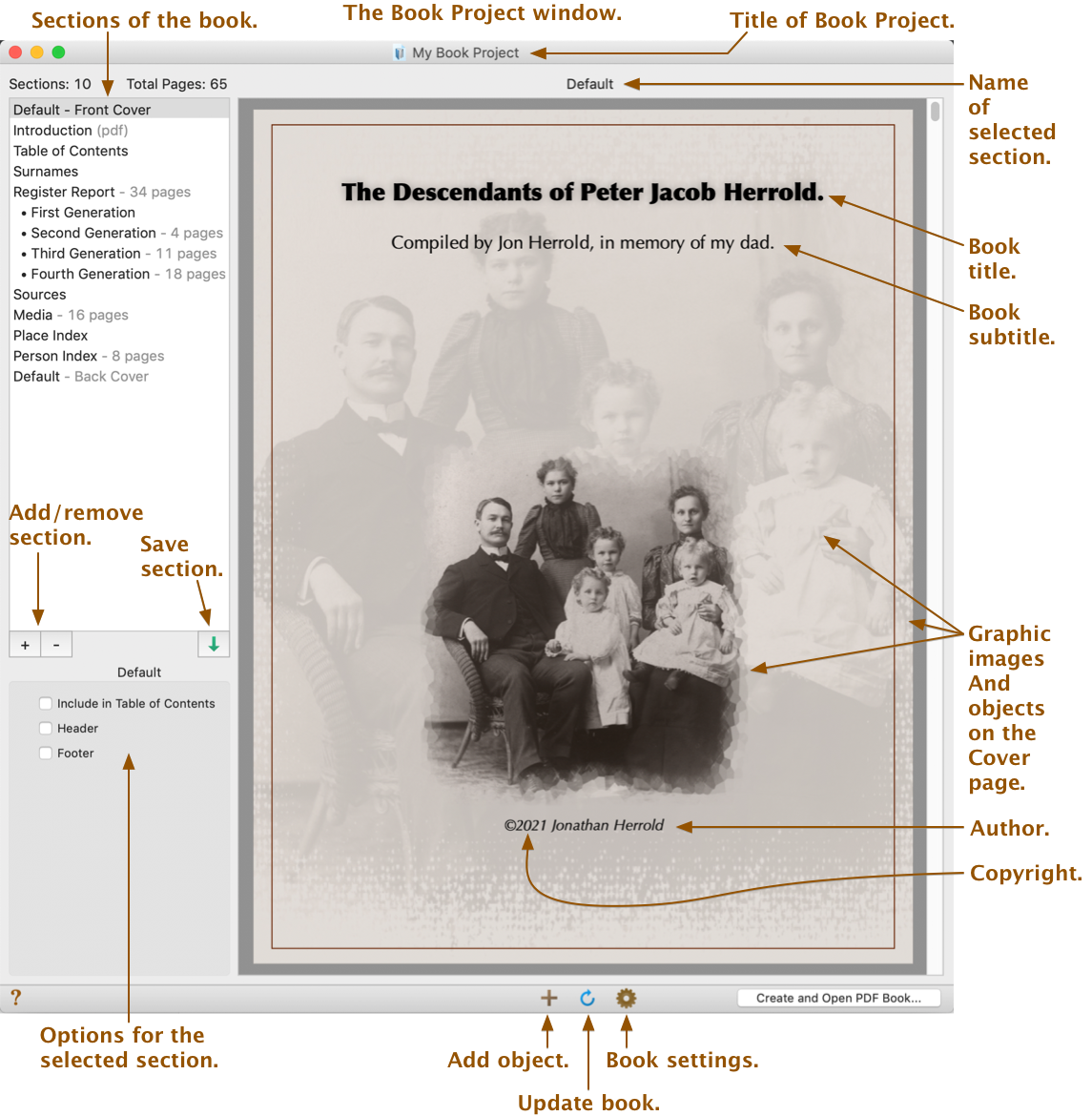 In a nutshell, here are the three steps to making a book...
In the
panel, basic choices are made for the book.
Next, the Book Project window shows a preliminary version of the book (see illustration above), along with options for each section. Graphics, text, and even completed pages from other apps can be added in the Book Project window. In short, this is where customization happens.
Finally, a PDF file of your book is created for sharing or printing. It appears in Apple's Preview app, as shown below.
More details about book creation appear in the Reunion User Guide. We suggest you experiment with smaller reports; there are numerous options in the "Layout."
We've seen many examples of published books from Reunion users where the core report and graphic charts (cascading pedigrees and/or small descendant charts) are combined together. Doing this with Reunion's book creator makes this as simple as drag-and-drop.
For more suggestions and ideas about creating books, you may want to search on ReunionTalk. This topic has been discussed in the past. You're also welcome to post a new question if you'd like. Please note that you'll need to register for a ReunionTalk account before posting (if you haven't done so already).